---
---
Change Torsion Bars and Adjust Ride Height
QuickChange spring plates make fast-work of torsion bar re-indexing and replacement. Screw-type adjuster makes corner balancing and ride height adjustment a breeze. Pairs the high quality of the factory design with ease of servicing.
5 minute torsion bar changes
Fast and easy ride-height adjustment
Accepts standard bushings
Porsche 356 Spring Plate Systems
The 356 used two different systems of spring plates, cover plate, bushings, and torsion bars as defined below:
A and B chassis:
Came quipped with 627mm long torsion bars. Cover plates have a hole in the center. Spring plates have a visible "tube" section that passes through the cover plate. Both inner and out bushings are larger ID about 48mm.
Elephant Racing Polybronze, QuickChange spring plates, and Torsion bars are all designed for direct fit with this combination.
Pre-A, C and CS chassis:
Came equipped with 553mm long torsion bars. Cover plates have no center hole and a 4-nub style bushing. Spring plates have a short "tube" section that is not visible when installed because it does not pass through the cover plate. Outer bushings are larger 48mm Id and inner bushings have a smaller 45mm ID.
Elephant Racing Polybronze, QuickChange spring plates, and Torsion bars can be used on these cars provided all 4 components (torsion bars, cover plate, spring plate, bushings) are converted together.
Setup is fast and easy
If you've ever re-indexed torsion bars to correct ride height, you can really appreciate the benefits of QuickChange. Used in combination with our QuickChange Torsion Bars and Polybronze bearings, this spring plate allows rapid replacement or re-indexing of torsion bars.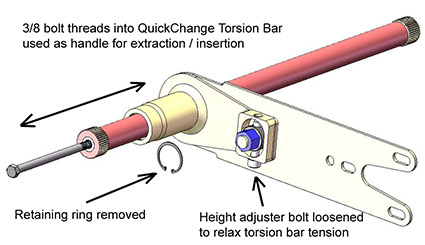 QuickChange Torsion Bar Changeout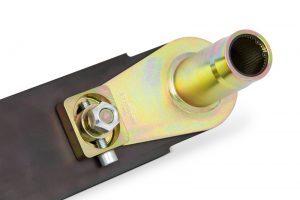 QuickChange Torsion Bars can be extracted through the QuickChange Spring Plate without removing any bolts. Alignment settings are maintained. You don't even need to remove the wheel from the car. Changing torsion bars is a 5 minute per side operation!
Unlike other aftermarket spring plates, QuickChange Spring Plates bolt the plates together. This prevents the plates "halves" from sliding against each other and eliminates failures and metallic clicking noises common with competing products.
Can be used with any torsion bar and bushing that fits factory spring plates – not included – however QuickChange Torsion bars and PolyBronze Bearings are required to use torsion bar extraction features.
---