---
---
Any size 1mm-31mm in 1mm increments
Elephant Racing's System achieves any spacer size by combining Base Spacers with Spacer Shims. When you are stuffing the widest tires under your fenders or achieving the perfect stance, every millimeter counts.
How it works:
1. Choose the Base Spacer closest to your desired fit
2. Add Shim Spacers (Sold Separately) to achieve perfect fit. Shim Spacers can be stacked up to 10mm high, 5mm behind and 5mm in front.
*Adding wheel spacers typically requires installing extended wheel studs.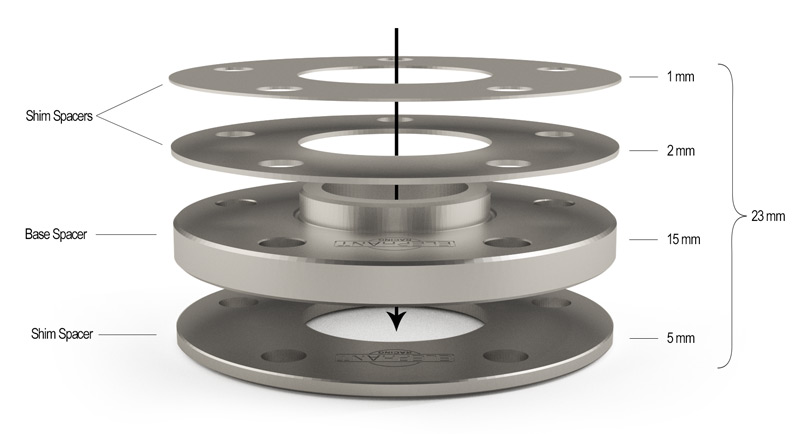 Spacers fit Porsche vehicles that use a 5x130mm bolt pattern and a 71.5mm center bore. The wheel spacer hub ring maintains the factory hub dimensions and does not negatively affect wheel fitment.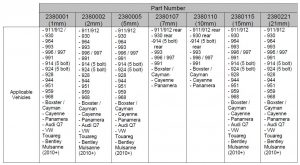 The spacers are machined from lightweight aluminum with recessed cutouts to further reduce weight. Elephant Racing Wheel Spacers' precise fit will ensure a smooth and vibration free ride.


Application Table

Part No.
Stock Equiv.
Fitment & Configuration
2380107
-
7mm Spacer,
911/912 Rear Only,
930 Rear Only,
914 5 Bolt Rear Only,
993 F/R,
996 / 997 F/R,
991 F/R,
Boxster/Cayman F/R,
Cayenne F/R,
Panamera F/R
2380110
-
10mm Spacer,
911/912 Rear Only,
930 Rear Only,
914 5 Bolt Rear Only,
993 F/R,
996 / 997 F/R,
991 F/R,
Boxster/Cayman F/R,
Cayenne F/R,
Panamera F/R
2380115
-
15mm Spacer,
911/912 F/R,
930 F/R,
964 F/R,
993 F/R,
996 / 997 F/R,
991 F/R,
914 (5 Bolt) F/R,
924 (5 Bolt) F/R,
928 F/R,
944 F/R,
951 F/R,
959 F/R,
968 F/R,
Boxster/Cayman F/R,
Cayenne F/R,
Panamera F/R
2380221
-
21mm Spacer,
911/912 F/R,
930 F/R,
964 F/R,
993 F/R,
996 / 997 F/R,
991 F/R,
914 (5 Bolt) F/R,
924 (5 Bolt) F/R,
928 F/R,
944 F/R,
951 F/R,
959 F/R,
968 F/R,
Boxster/Cayman F/R,
Cayenne F/R,
Panamera F/R
---