---
---
Hans Device for head and neck support. This revolutionary new technology brings an entirely new level of safety to racing. A race car's shoulder harness and seat belt holds the Hans Device tightly to the driver's shoulders. Two straps connect the helmet to the Hans Device, preventing the head and neck from whipping forward. If you race, you need a Hans Device.
SFI 38.1 and FIA 8858 certified.
Works with any Snell certified helmet.
Allows 45 degrees of head rotation both right and left.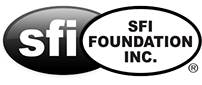 Use the table below to choose size. Available in 3 sizes to fit neck sizes from less than 12" to over 18".
           Model                               Part Number
Economy 20 Degree         Small HANS 20ES
Economy 20 Degree         Medium HANS 20EM
Economy 20 Degree         Large HANS 20L
---