---
---
Rear camber adjuster
Rear CamberMax kit simplifies 911 rear camber adjustment, making it easy to achieve aggressive negative camber settings of 3+ degrees. Instead of using the troublesome factory eccentric bolt, Rear CamberMax allows adjustment with a simple and precise screw.
Unlike the stock eccentric adjuster, Rear CamberMax allows adjustment with vehicle weight resting on the tires making it easy to read a camber gauge while turning the adjuster.
By making equal adjuster turns on both driver and passenger sides, quick changes can be made trackside even if a camber gauge is not available – try that with the factory eccentric adjuster!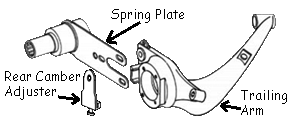 Note – Fits factory spring plates and AL trailing arms only. Does not fit Sway-a-way plates or steel trailing arms
---